Wabtec partners with Akiem on service contract to maximize locomotive availability in France and Germany
PITTSBURGH, Oct. 13, 2022 –Wabtec Corporation (NYSE: WAB) signed a services contract with Akiem, a leading European rolling stock leasing company, to provide maintenance of critical equipment for locomotive fleets in Europe. The deal will improve safety, reliability, and availability of rolling stock for Akiem's customers.
The agreement, which runs for the next five years, covers brake components, pantographs, and HVAC for the company's PRIMA and TRAXX fleets in France and Germany. The objective for Wabtec and Akiem is to maximize asset availability for the operator's customers.
This crucial equipment maintenance partnership with Akiem sees Wabtec working directly with the owner of the rolling stock. Akiem's key role in this value chain means it fully measures the value of robust and reliable equipment. We share their commitment to maximize train safety and reliability and are looking forward to supporting this major actor in European rail to achieve its goals.
Wabtec's European footprint was a key enabler in building this relationship. The proximity of Wabtec's teams to Akiem's maintenance sites will allow for optimal equipment monitoring. An additional factor was Wabtec's expertise and leadership in the products covered by the contract. These should provide key building blocks to further the support to Akiem for both – overhauling their equipment as well as optimizing the fleets while in service with their customers.
We are confident this long-term partnership with the Wabtec team regarding the revisions of components will enable Akiem to secure and shorten our maintenance operations on half our current fleet, to the direct benefit of our customers. Wabtec's flexibility along with the possibility to acquire new spare parts, or even extend the scope of services will indisputably be a source of a successful partnership.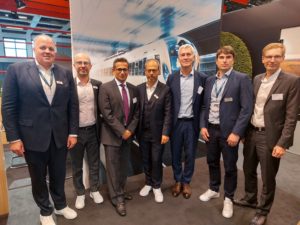 The two parties will also work together to develop innovative services, including additive manufacturing, remote diagnostics and more sustainable HVAC refrigerants, to optimize efficiency and environmental performance.