Working with regions and territories to upgrade passenger travel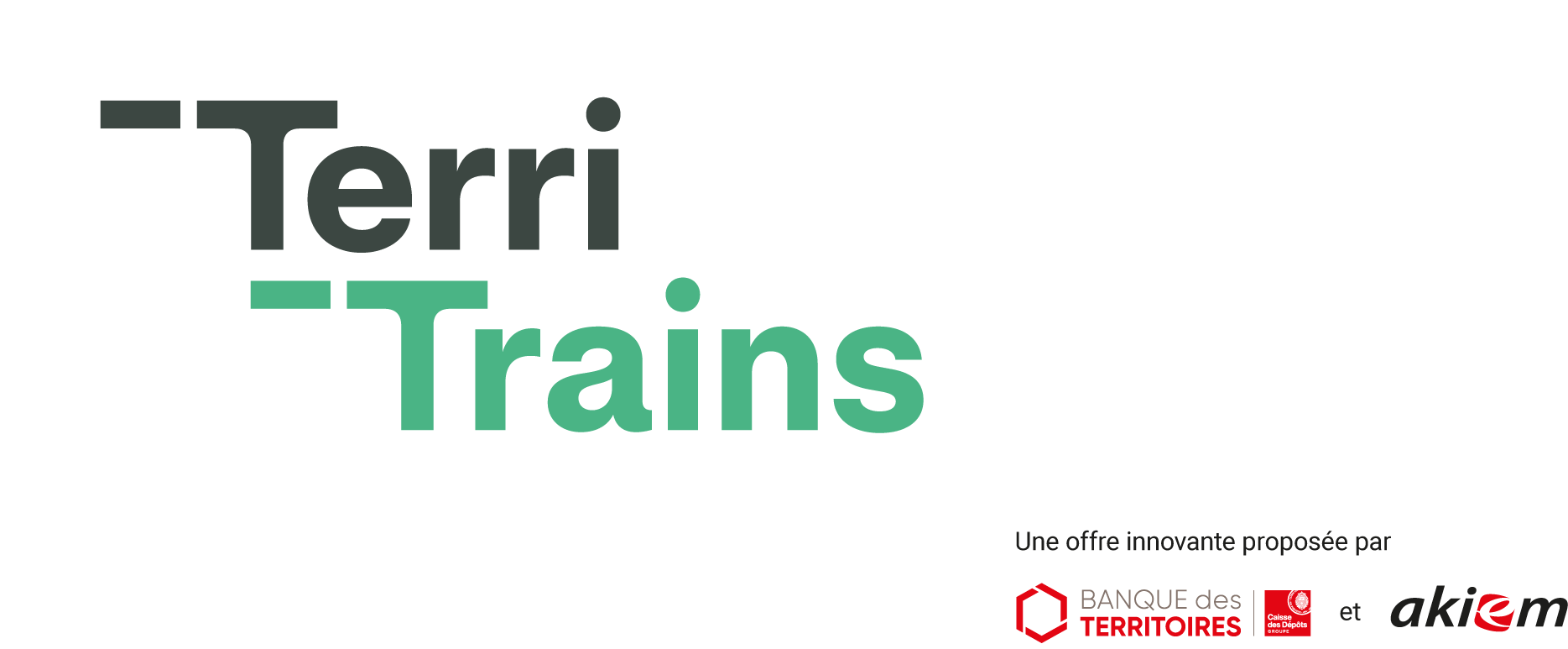 An innovative solution
TerriTrains is a consortium unlike any other in the French rail market, created as part of a public‑private partnership between Banque des Territoires and Akiem. The new consortium offers solutions to the state, regional authorities and rail companies for financing, acquiring and managing passenger train fleets, targeting in particular demand for regional express trains (TER) and rail services that support regional economic development (TET).
Banque des Territoires and Akiem's goal in setting up TerriTrains is to offer transport authorities an innovative solution for financing, leasing and managing passenger rolling stock, provided by highly expert partners that place the common good at the heart of their approach.
Complementary expertise
TerriTrains is a solution that gives you access to the full range of expertise from two partners, both committed to delivering quality of service and customer satisfaction on a daily basis, underpinned by a constant concern for the common good.
A key player in French financing
With its expertise in project design and financing, Banque des Territoires supports the emergence of sustainable infrastructure projects and economic development in every region of France. The bank therefore has a special focus on projects for revitalising regional and inter‑regional rail transport to make territories more attractive, sustainable and inclusive, covering both day‑to‑day travel and less regular long distance journeys
A major player in the European rail sector
Present in over 21 countries across Europe and serving almost 80 customers passenger and freight service operators, every day Akiem provides effective and deliverable responses to operators from all sectors of the rail industry, primarily via maintenance services, expertise in fleet management and rolling stock refits, and skills in overseeing calls for tenders concerning projects to acquire new rolling stock.
In creating the TerriTrains solution with Akiem, our goal is to provide support to transport authorities, particularly the regions, as France's rail market opens up to competition and, more generally, to contribute to the revival of regional and inter‑regional rail transport. This solution, which transfers the risks of rolling stock ownership, provides transport authorities with access to the full range of Akiem's expertise, and will guarantee long‑term non‑discriminatory access to rolling stock to every rail operator selected by regional transport authorities.
Together with Banque des Territoires, we are determined to serve local authorities and develop a public‑private leasing solution to guarantee that transport authorities receive the best possible value for money. The solution we offer is also totally professional, sustainable and transparent. TerriTrains exists to act as a technical, contractual and financial facilitator, supporting public authorities in their drive to develop rail services, and acting as a catalyst for growth in rail transport.
Please get in touch with us to find out more about TerriTrains, or discuss any project designed to revitalise regional rail transport