Akiem-Lineas: the art of growing together
Having worked closely together for many gratifying years, Akiem has become a genuine business development partner for rail operator Lineas. The result is a success story where the key word is "trust".
Lineas (formerly OSR) and Akiem, the locomotive leasing company, were both set up in 2008 and have now been partners for seven years. It is a relationship that is as fruitful as it is enjoyable.
"At the outset, we were looking for a service provider with equipment that could run on the French network and who offered full-service maintenance," says Olivier Deprez, managing director of Lineas France. "Akiem had everything we needed to support us with our growth plan."
After the initial contract, Lineas leased from two to five more locomotives from Akiem every year, so the operator's number of locos quickly added up. The five-year renewal contract signed with Lineas in 2018 covers 26 locomotives: 20 BB 75000 Diesel and six BB 27000 Electric.
This impressive fleet will enable Lineas France – based in the north of the country and gradually expanding its range – to add services as far away as Lyon in central France and Mulhouse in the east.
"Over and above our short-term operating and commercial objectives, our goal is to restore freighters' trust in rail transport and thereby contribute to the modal transfer from road to rail," says Olivier Deprez.
Akiem had everything we needed to support us with our growth plan.
Responsiveness and flexibility
For him, what makes Akiem stand out is the responsiveness of its people, their understanding of the rail sector's specific features and challenges, and their focus on customer needs.
He continues: "We regularly discuss our respective expectations, needs and constraints. That helps us to steer our growth efficiently by adjusting our fleet thanks to the availability of the Akiem fleet. The basis of our relationship is contract flexibility; it's essential for dealing with market volatility and sparing us the very heavy financial charge of an unused locomotive."
Far from remaining content with what they have already achieved, the two companies are constantly thinking about ways to improve their partnership. Given Lineas's commitment to sustainable development, provision of electric engines (already available) or hybrids is an area for development that both partners intend to work on to prolong their success story. And Akiem, which also partners the Belgium-based Lineas parent company, will continue discussions on interoperable locomotives for operations between France and Belgium.
One thing is sure, concludes Olivier Deprez: "With the outlook showing regular growth in our key markets, we will certainly still need a sound, reliable partner who is always willing to listen!"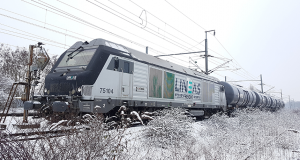 Photo: France Ferroviaire