We are convinced rail is the transport and mobility solution of tomorrow, a practical and effective response that supports and anticipates the key social and environmental challenges we face.
Our mission
To prepare for tomorrow, Akiem is committed to developing a sustainable model for rail that is leaner, more efficient and safer.
Partner for your fleet strategy
Akiem is a leading European provider of turnkey solutions for the supply of locomotives and passenger trains. Everywhere in Europe, Akiem is always 100% committed to working alongside rail industry operators and freight and passenger carriers to:
offer a wide range of rolling stock, value-added leasing solutions, and industrial and maintenance solutions
guarantee the very highest levels of safety, availability and reliability, at controlled costs
support its customers so that they are free to concentrate on their core business in complete confidence
Akiem is the perfect fleet strategy partner, ideally positioned to offer its customers comprehensive support and non-stop innovation at every stage of the rolling stock value chain.
By your side, everywhere in Europe
Being close to you is one of our core values. It is a state of mind, backed by the structures and expertise needed to serve our customers and partners.
We speak the same language, we understand your business. We are by your side at all times, with dedicated contact people working with you at every stage of the contract period, from initially diagnosing your needs until you finally hand back the rolling stock.
Working from our offices in Germany, Poland, France, the UK, Hungary, Sweden, the Netherlands and Luxembourg, our teams are located close to where you need them most, overseeing our rolling stock that operates in 22 countries of Europe every day.
Extensive financing capacity
Akiem benefits from a solid balance sheet and the support of its unique shareholders, with structured debt financing provided by banking partners and leading international bond investors. Our purchasing power, independence from manufacturers and our expertise and experience let us negotiate the best rolling stock acquisition contracts, and we share these benefits with our customers.
We can also help you with projects for refinancing your existing fleets.
Innovation is central to our solutions
At Akiem, we are determined to remain competitive in a fast-changing industry, meaning we systematically investigate every possible innovation that could be introduced to our rolling stock supply and maintenance solutions. Innovative technical equipment, digitised processes, new methods for sharing data with customers and suppliers, increasing use of predictive maintenance, and more – innovation is central to everything we do, and how we do it!
Our areas of expertise
What is our central purpose? To provide you with comprehensive support that is simple and 100% integrated, designing and developing the services you need to meet the challenges of your fleet strategy, everywhere, all the time.
Akiem: locomotive and passenger train solutions to meet your needs
At Akiem, we understand that rail is the future of transport and mobility. Rail is the sustainable answer to the challenge of transitioning to low-carbon transport. We work side by side with rail industry actors and institutional stakeholders to jointly design and deliver solutions to boost rail's competitive advantage over other forms of transport. Our rolling stock fleet is one of the largest, most modern and most diversified on the market. We purchase and finance the new and used rolling stock our customers need. We leverage our full expertise and industrial capacity to benefit our customers and partners, guaranteeing customers access to rolling stock that is available and reliable, with the highest levels of safety.
Everywhere, every day, our teams work to make sure that our customers, whether private sector or regional transport authorities, are free to fully concentrate on their core activities.
Akiem Technik: industrial and maintenance expertise
Akiem Technik operates across Europe, providing the expertise, industrial and logistical capacities and network of partners that underpins the ecosystem of Akiem's ECM-certified maintenance solutions.
Akiem Technik oversees all the resources needed to guarantee the highest levels of rolling stock availability and reliability: workshops, tooling, technical and industrial IT systems, extensive inventory of spare parts and major components, etc. And because everything we do is driven by safety, Akiem Technik is ECM-certified. We are fully focused on delivering the very highest standards of quality.
Akiem Technik supports the Akiem fleet and its customers, as well as helping operators that run their own rolling stock. Akiem Technik offers a wide range of services: operational maintenance, general overhauls as well as the sale and management of spare parts and major components.
ECM compliance and certifications
Provisions governing the certification system for entities in charge of maintenance of vehicles (ECM) for rolling stock are defined in Commission Implementing Regulation (EU) 779/2019. All our ECM services are audited and certified in compliance with this regulation by independent inspection bodies.
Akiem and Akiem Technik are certified to ISO 9001 v2015.
A responsible company
There is more to Akiem than the suitability of our solutions and the expertise of our people. We are a group of women and men who share the same dedication and the same convictions.
Our identity
Experts with backgrounds in industry, rail, logistics and finance, Akiem's 220 staff all share two core qualities:
entrepreneurial flair: we are agile collaborators and innovators, designing new solutions that guarantee long-term profitable growth for Akiem, customers and partners alike
customer service focus: we listen to, advise and support our customers. Our goal is to offer the services you expect, with ambitious standards of quality, responsiveness and safety.
Values
Akiem is guided by the values and ethical principles that serve as the basis for our commitments and for everything that we do.
Expertise and innovationOur expertise exists to meet your challenges. We are committed to constantly extending and expanding our range of skills to align with our customers' expectations. This is part of what makes us different and one of the keys to improving performance. We constantly encourage innovation in the services we deliver on your behalf and in how we structure our investments.
Commitment
Our long-term strategy delivers performance for all, to shareholders, customers, staff and partners alike.
Being close to youThe closeness of relationships between our staff, and in our day-to-day relationships with contractors and customers, is a powerful driver for efficiency and responsiveness.
Sustainable development
People, their career paths, safety and health lie at the heart of everything we do. The decisions we take are informed by the impact these will have on the environment.
Respect
Akiem believes in its values and its rigorous ethical standards, all designed to protect equality, people and the environment.
Integrity
We believe that integrity is fundamental to our group's lasting prosperity. Success cannot be created with corruption, fraud or in violation of any applicable regulations or legislation.
Industrial commitments
Our management policy is totally focused on quality and safety. In the field, this is seen in:
a hands-on and proactive relationship with your teams at every stage of the contract
our specialist industry processes, which are all managed and piloted in full accordance with the demands of the ISO 9001:2015 standard
a safety policy aligned with the requirements of EU/779/2019 and ECM certification
a choice of a network of partners and contractors that share our convictions and dedication to the highest quality and safety standards
constant increases to our capacity for anticipation, responsiveness and innovation
constant engagement with everybody in the business to ensure the safety and well-being of our staff
Ethics Charter, Code of Conduct and Suppliers' Code of Conduct
Akiem's values and ethical principles have been central to its success since it was founded. They inspire the trust placed in us by our shareholders, customers, staff and partners. Our Ethics Charter and Codes of Conduct provide benchmarks and a clear set of rules for all our staff and suppliers. They apply to everyone throughout the entire Akiem group, no matter where they work or what their job is.
All stakeholders can report any act or fact linked to Akiem that would violate the law, Akiem's Ethics Charter or Business and Suppliers' Codes to the Compliance Officer via: https://akiem.signalement.net/. All alerts will undergo a thorough investigation and audit.
Ethics Charter    Code of conduct    Code of conduct for suppliers
ESG report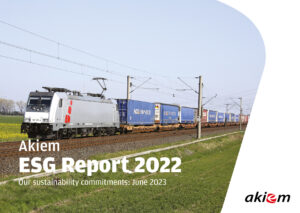 For Akiem, corporate social responsibility guides and gives meaning to our actions, and is part of our DNA. We are convinced that economic and operational performance cannot be achieved in the long term without taking care of people, community and the environment. Akiem promotes respect and integrity through a range of highly concrete actions. We deliver and manage these activities to meet our goals for health and safety, social relations and our emissions and carbon footprint, all in accordance with our values. We are also utterly committed to our ethical principles and to acting in compliance with all applicable laws and regulations.
These principles and actions are integral to Akiem's strategy and the objectives set for our management and employees. They are widely shared with our governance bodies and partners.
Governance
Executive Management

Governance of the Akiem group protects the interests of its shareholders and the missions entrusted to its business units, ensuring always that the very strictest standards are followed.
Akiem Executive Committee members
Fabien ROCHEFORT – CEO
Jörg ALTHOEFER – Managing Director, Maintenance & Services
Simon-Pierre TREZEGUET – Managing Director, Locomotive leasing
Renato DE LUSSU – Chief Financial Director
Stefanie FAHRENBACH – Human Resources Director
Sophie RIZZO – Sustainability & Performance Director
Michael LAUTENBACH – Vice President Akiem transformation, Performance & PMO
Maxandre GARZINO-FRECHOT – Purchasing Director
Costel MILITARU – Chief Information Officer
Mathieu BREMONT – Managing Director Passenger train leasing
Shareholders
Akiem is 100% owned by CDPQ, a global investment group strongly committed to the development of low-carbon infrastructure.
Akiem was founded in 2008 as the French rail sector opened up to competition.
With substantial and stable industrial and financial resources, Akiem grew quickly and soon emerged as a leading European actor, driven by the emergence of new services, its rolling stock acquisition strategy, a well-managed portfolio of activities and major expansion in its customer base.
Akiem acquires the rolling stock leasing business of Macquarie European Rail
mgw Service opens an office in Strasbourg, France, and sets up a team of mobile technicians
Akiem opens an office in Warsaw, Poland
Akiem becomes the first locomotive leasing company to order 10 TRAXX MS3 locomotives from Bombardier Transportation
Akiem signs a new €140 million financing contract
Akiem signs a sale & leaseback contract with NSR for 45 TRAXX BR186 DABNL
Akiem opens an office in Budapest, Hungary
Akiem acquires 100% of the equity in mgw Service GmbH Co. KG and BBW KG & GmbH Krefeld
Eurotraction, a DWS company (formerly Deutsche Asset Management) acquires 50% of the equity in Akiem, opening a new chapter in the group's expansion with new investment in capital equipment and inorganic growth
Akiem signs a framework agreement with Bombardier Service for 52 TRAXX BR186 and BR185
Akiem orders 44 DE18 from Vossloh
Akiem purchases 20 TRAXX DC2 from Bombardier Transportation
Acquisition of the Veolia Cargo locomotive fleet
First contract for acquisition of Bombardier TRAXX electric locomotives
Contract for acquisition of EMD Class 77 locomotives
Contract for acquisition of Vossloh G1000 locomotives
Sale & leaseback operation – 270 Alstom locomotives from Fret SNCF
Creation of Akiem, a subsidiary of TLP