A new approach to equipment maintenance with Open Rail
Over the past few weeks, Open Rail has been trying out Akiem's integrated maintenance solution as part of a pilot project. The two partners both want to innovate to bring a new type of product to market.
Open Rail may be a youngster, but it has big ambitions and is not afraid to show them. This rail company was set up in March 2019 by the Combronde Group and the Open Modal group, which is a major operator in intermodal transport in France but also a road haulier – meaning it is highly demanding when it comes to the efficiency of logistics solutions. Open Rail currently provides intermodal train services between the French cities of Gerzat, Chalon-sur-Saône, Loire-sur-Rhône and Fos-sur-Mer. "Our goal is to develop our business both by increasing transport volumes and improving quality of service," says Céline Humbert-Daniel, managing director of Open Rail. "To offer end-to-end services that can compete with road transport, we have to combine adaptability with reliability."
At the moment, Open Rail has four diesel and electric engines. The fleet is set to expand, with already in 2021 a trial for a first service route for T3M, an intermodal transport operator that is also part of the Open Modal group. This is why Open Rail decided to team up with Akiem, which quickly moved to set up a pilot project.
So since 22 June 2020, Open Rail has a new BB 27161 locomotive leased under full service. The special feature of the contract is that maintenance is in the hands of mgw Service, Akiem's maintenance and industrial services entity and a new player in the French market.
To offer end-to-end services that can compete with road transport, we have to combine adaptability with reliability.
The power of engagement and local services
The pairing of Open Rail and Akiem can be explained by their similar values: both companies share a spirit of entrepreneurship and both want to develop innovative solutions to meet their respective needs.
"Given the high service standards we set, including a 95% engagement rate, our transport plan cannot be penalised by a problem of equipment," underlines Céline Humbert-Daniel. "Akiem's integrated solution offers a maintenance approach based on engagement, local service and transparency – and that builds our trust."
The rail company especially appreciated the proposal to provide maintenance personnel close to the places where it operates as well as the possibility of being able to access the IT tools and internet portal for monitoring maintenance operations.
Since the start-up of the maintenance service, the teams are in touch regularly and do a daily status check on the equipment. "We had an engine breakdown one Friday and our partner arrived immediately. Over the weekend, they got hold of the spare part that was needed, and the repair was carried out the Monday morning. Close, local service and fast reactions – just what we expect," says Céline Humbert-Daniel.
Open Rail and Akiem have agreed to extend the trial period until the end of October. It's perhaps the first chapter in a long-lasting partnership.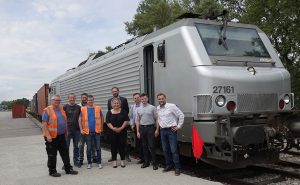 A maintenance division integrated in Akiem
In 2017, mgw Service, a German company set up in 2005 and specialising in locomotive maintenance, became part of Akiem Group. mgw Service is in charge of the maintenance of over 200 locomotives in Europe, mainly in Germany but also in Scandinavia. The company has been operating in France since 2019 and is structured around Entity in Charge of Maintenance (ECM) certification and the extensive supply chain of its German headquarters. By the end of 2020, mgw Service is expected to have contracts for 14 BB 27000 locomotives and 20 Y 8000 shunters. "We've set up a mobile maintenance solution with technicians based in strategic places from where they can travel rapidly to other places," says Henri Fribault, head of operations at mgw Service SAS. "For some specific operations, we call on a network of partners who make their infrastructure available to us or carry out work on our behalf»